Lisa Biales
Go! FEATURE
When Lisa Biales was a child, they couldn't get her to quit singing.

"My parents were both musical," she said. "My dad played upright bass and my mom sang and acted in community theater.

"I started writing plays as a child, casting and directing my playmates in our garage that I turned into a theater for the day. No matter what the play, the big finale was always me belting out 'Moon River.'"

When she was about 12, a student at Sacred Heart School in Fairfield, she approached her older brother to teach her to play a song on the guitar that she could sing to.

"He taught me the chords to 'I'm So Glad,'" she said. "It was just moving an E chord up and down the neck. It was easy, but I was hooked."

She soon started performing at the Sacred Heart Church's guitar mass and filling in the breaks of her father's Dixieland band when it would play at LeSourdesville Lake, where she first started performing her own compositions. By high school, she was in a band, Paragon, playing gigs at Waterworks Park, school dances and parties almost every weekend.

Her latest album, "Chasing Away the Blues," has earned a bit of acclaim with one of its songs, "Where the Buckwheat Blooms," climbing to the Top 40 at the On-Line Folk Festival, an Internet-based radio station.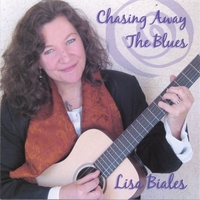 "That was a song written about my mom when she was a little girl," she said. "Her family moved around a lot after the war. Her father had a hard time finding a job and drank a lot, but she would remember riding in a truck in the middle of nowhere with the buckwheat in bloom. It was a favorite time in her life, but it was a bittersweet time."

While she said she didn't particularly intend to make a blues album, the bluesy tone seemed to emerge anyway.

"The blues has crept in periodically throughout my career," she said. "Those are the songs that the great singers sing č something to sink your teeth into č and my vocals lend themselves to that bluesy feeling.

"Each song is an individual, each with its own life," she said.

In addition to her solo work, Biales is also a member of a folk duo, Prairie Orchid, with Sarah Goslee Reed, and a trio, Tres Lunas, with fellow Oxford residents Bonnie Allyn and Laurie Traveline.

Biales has a standing monthly solo gig at the A-List Wine and Martini Bar, located above Alexander's Restaurant in Oxford, where she tries out her new material to see what sticks.

"People really respond to the bluesy songs I do," she said. "I can see their reaction up close and personal, and it's been wonderful to have that venue."